Phone Ring Gorilla Bundle Introduction


In The News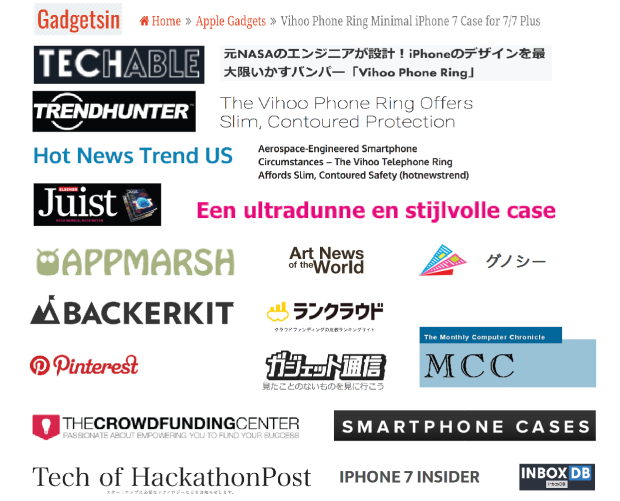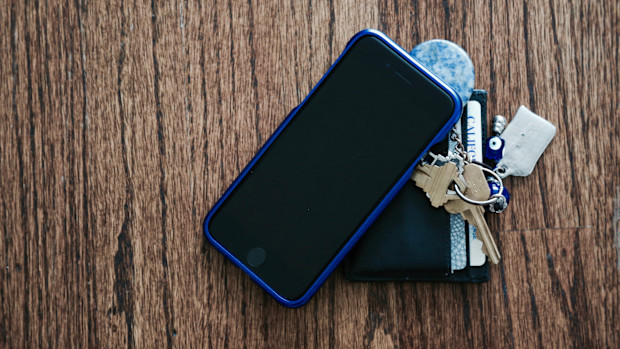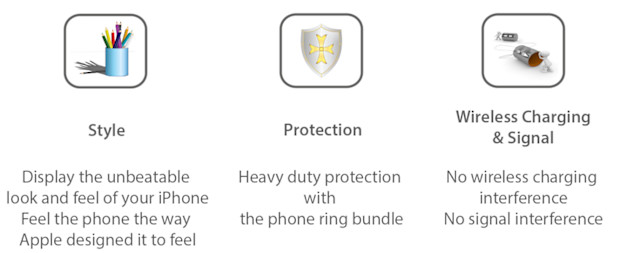 Style
Testimonial
"It is truly a work of art. I love it." --- J. Sommers on July 24, 2017.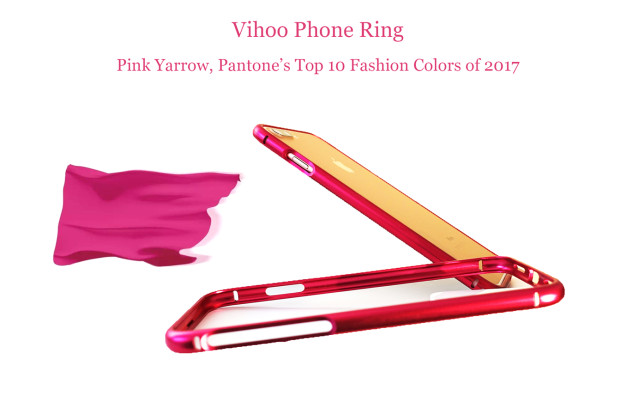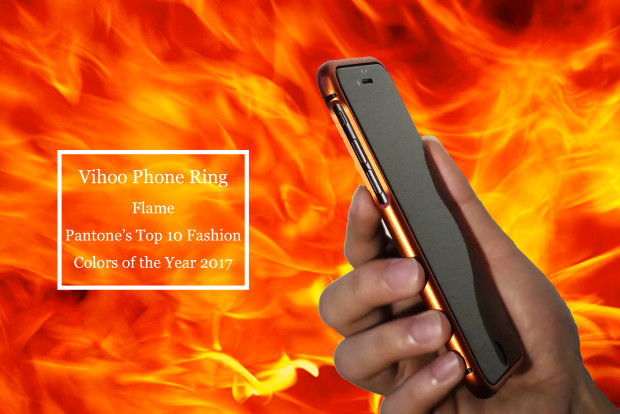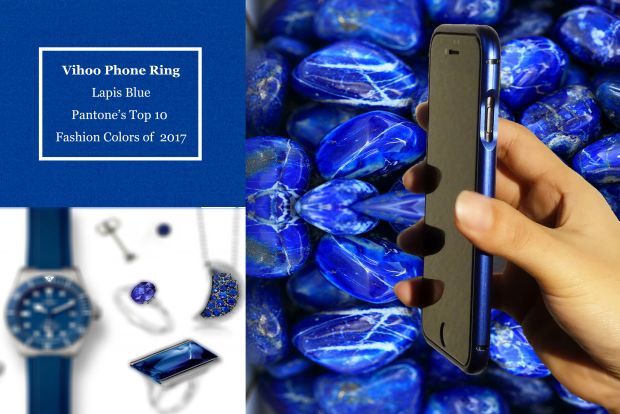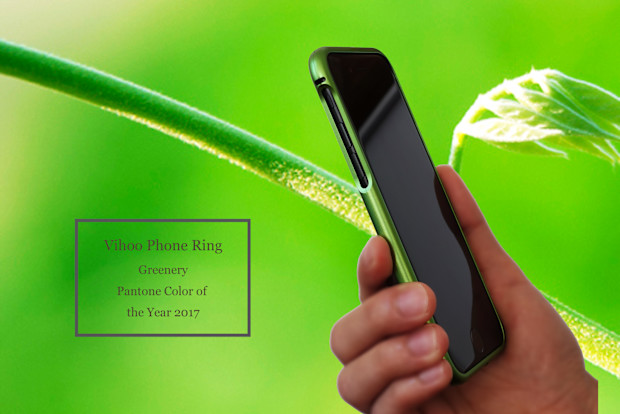 Testimonial
"I love my red O-ring on my iPhone 7 plus even more than I thought I would, but one color doesn't seem to be enough, so I have purchased a gold one. This is a great product and easy to install. I've never been very good at placing a protective screen, so I do have a few very small bubbles, not enough to bother me. As you come out with new colors, I'll probably buy more. It's so easy to take on and off that I can color coordinate any time. I chose the gold this time." --- J. Sommers on August 10, 2017.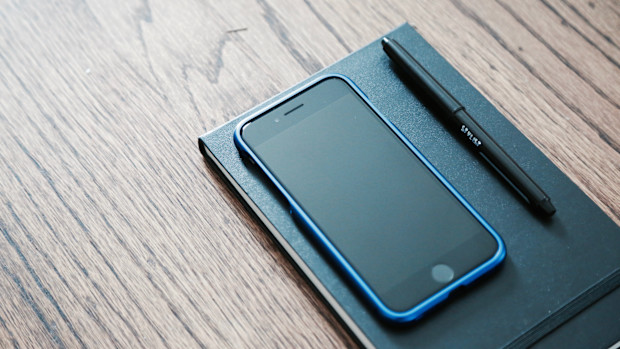 iPhone is beautiful, but plastic or rubber cases usually ruin the premium design, just like a diamond hidden in a plastic or rubber package
Vihoo's Phone Ring is a 2-piece hinged diamond-cut premium aluminum magnetic case for the iPhone. It showcases the natural look and feel of your iPhone.
The 2-piece hinged structure ensures the perfect fit for the iPhone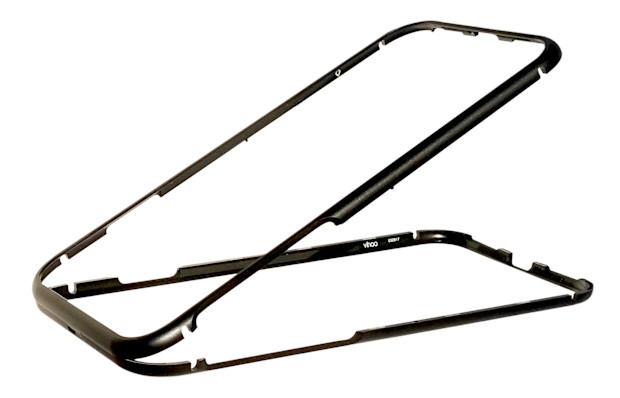 Integrated magnets in the phone ring allow easy on and off.

Ergonomic cutouts for power and volume buttons provide maximum comfort for thumbs and fingers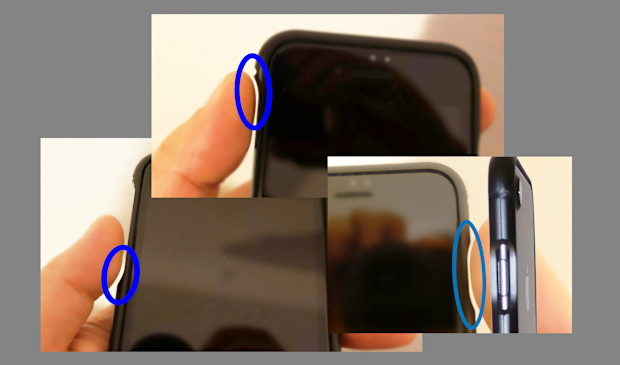 The soft rubber interior lining prevents scratches from ruining the beauty of the iPhone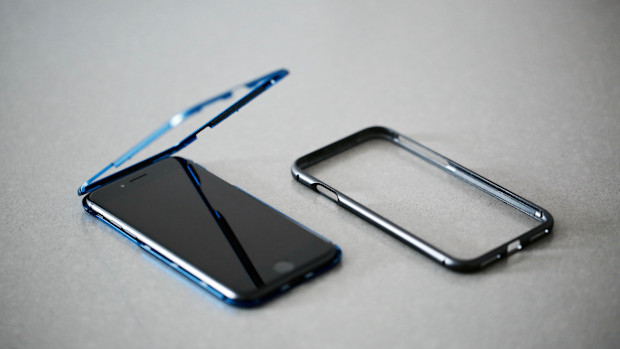 Testimonial 
"This case is perfect! It's simple but solid enough to actually provide some protection for my phone. I've used other ring-like phone cases in the past, but unlike other cases, this one doesn't feel like I can snap it in half when it isn't on my phone. The locking mechanism is also very secure. Overall great case, hoping they come out with the same type of case for the new iPhones whenever they come out." --- Z. on August 4, 2017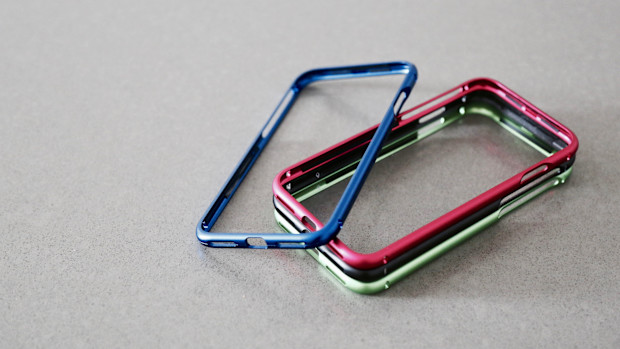 The Phone Ring's precision diamond-cut 2-piece hinged aluminum ring, in conjunction with the 3D full cover glass, blends seamlessly;resulting in a completely smooth surface, allowing iPhone  users to feel the iPhone the way Apple designed it to feel.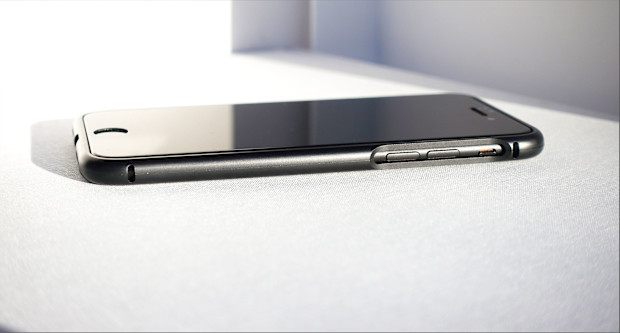 Testimonial
"This is the best case I've ever had. I love it. It is super light, very easy to install and looks slick. Seamless fit the glass protector. Make your phone feel like your phone does not have a case. Having owned almost every iPhone released I am constantly looking for a quality case that protects the phone but isn't heave (heavy) or bulky. I've purchased well over a dozen or more cases and this one is by far the best." --- T. Phelps on July 31, 2017.
"I purchased the black version and it perfectly matches the finish of my iPhone. The metal also has the same feel as the iPhone. It clips on easily and the magnet holding it together is very strong, will not come apart unless you try. I love this case. It is tricky to install the screen protector but the finished product looked great. Great fit and finish! It is easy to position correctly, then with a little pressure the adherence began, drawing itself to the screen." --- S. Kelly on July 31, 2017.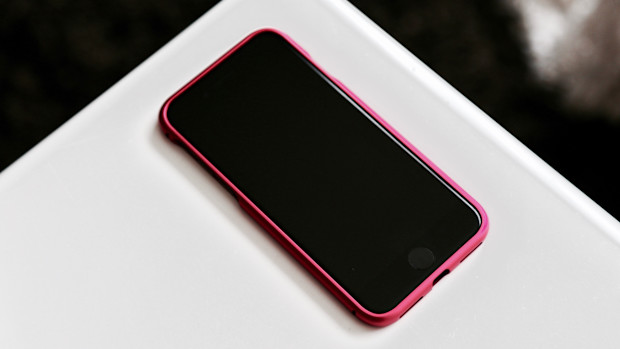 Protection
The sleek design of the diamond-cut 2-piece hinged aluminum ring implements  integrated cushions and complex honeycomb like structure within structure design using earthquake dynamics (patent pending)  to protect iPhones by dissipating energy from drops.  An integrated self locking mechanism at the base of the Phone Ring prevents the Phone Ring from opening during point of impact.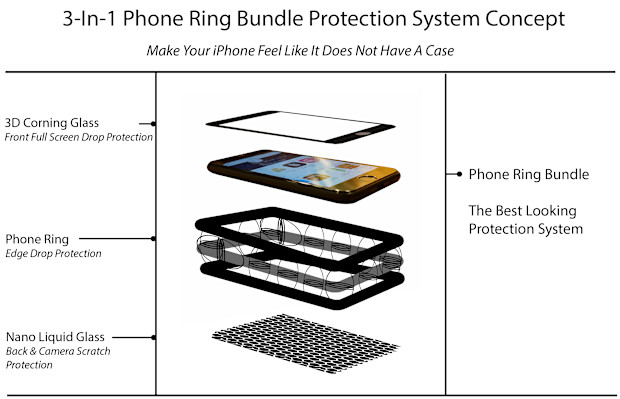 Vihoo phone ring with Vihoo 3D full-cover glass screen protector provides the ultimate drop protection
Repeatedly drop-tested: 7-foot drops onto brick and concrete floors
Successfully drop tested from 16 foot drop onto hardwood floor
* Military-grade drop only require phones to survive the 4-foot drops.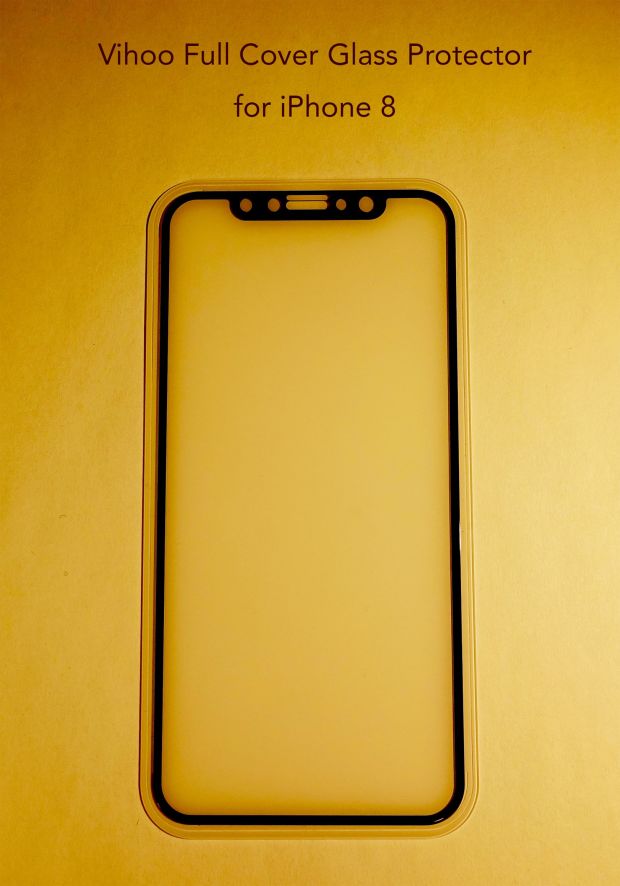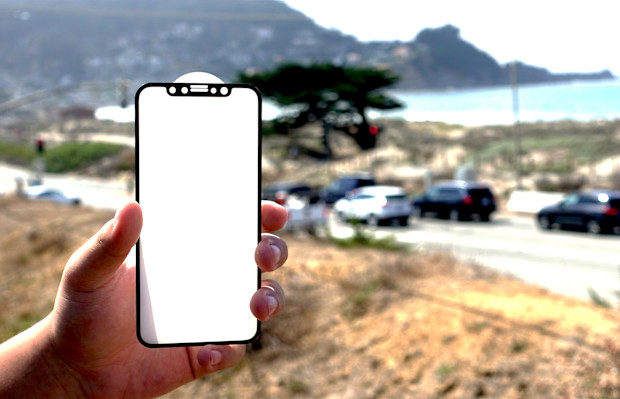 Vihoo's nano liquid glass protector, which is 600% more scratch resistant than tempered glass, can be applied to the iPhone's exposed rear to provide scratch protection that is 100% transparent
Protects the aluminum at nano-level while being completely invisible to the human eye and undetectable to human touch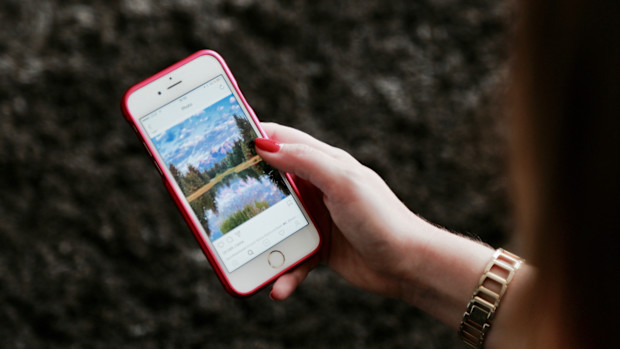 Wireless Charging & Signal
If you're worried about the aluminum interfering with cellular signal, don't. Due to the Phone Ring's 2-piece hinged magnetic bumper design, all of the antennas are uncovered; which results in no signal interference. Current Phone Ring users can attest to that.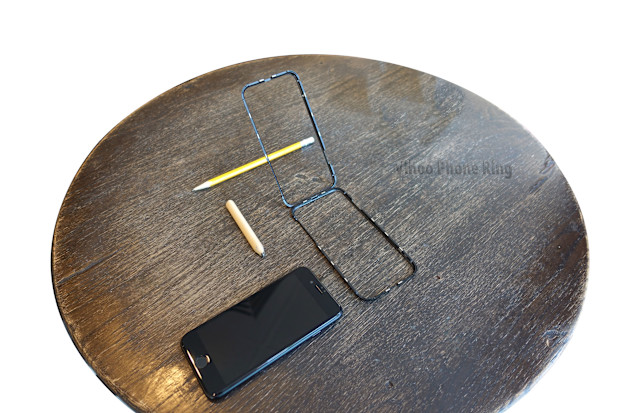 How To Install
Who We Are
We are Vihoo, and we want you to share in our passion for making the best, better, through coupling exemplary engineering with intuitive design. Lead by two iPhone lovers, Jack and Harry, who have simply grown to hate cases: one NASA engineer and one serial start-up veteran.
Jack Yang: Founder/That Super-Smart Friend
    Aeronautics & Astronautics degree at Stanford, gravitational wave satellite program at NASA, office automation image processing program at Xerox's PARC lab. Started an online 3D object recognition social network software company and a CIGS thin film solar module manufacturing company. Invented the Phone Ring.
Harry Reninger: Commercial Ninja/Startup Wizard
    A global go-getter who's launched four startups in the last ten years, helping lead all of them to international success.  Has lived in Europe and Asia, but is happy to be back home in Northern California.
Frequently Asked Questions
What is Phone Ring?
Phone Ring is the best case to protect your iPhone 8 without destroying its design
What's so special about Phone Ring?
The 2 piece hinged design allows the user to showcase and  feel the iphone like it was designed to  while ensuring the best fit and protection.
Who created Phone Ring?
Vihoo is a startup in Palo Alto, CA, the center of Silicon Valley. We utilize human intelligence to create IOT devices and robots to make people's' lives more convenient and meaningful.
We are iPhone lovers who are tired of hiding our iPhone in rubber or plastic cases. We solved this problem, and we want to share the solution with you.
Phone Ring is one of Vihoo's projects. We take advantage of our premium factory and industrial design ability to redefine iPhone protection while returning iPhone's design back in your hand.   
Whom does Phone Ring created for?
Phone Ring is for iPhone lovers and everyone who loves iPhone's design and style
Putting the iPhone's design back in your hand while providing protection is our purpose.
When & Where can I buy Phone Ring?
You can buy Phone Ring on Indiegogo Now!
https://www.indiegogo.com/projects/ring-only-pr...
Take a look at our crowdfunding campaign, choose the best  option for yourself, and preorder to be one of the first people to showcase and protect your iPhone like never before!
How much does Phone Ring cost?
Phone Ring consist of 3 components:
Vihoo phone ring
3D Vihoo Corning glass protector
Vihoo nano liquid protector.
The cost is listed below: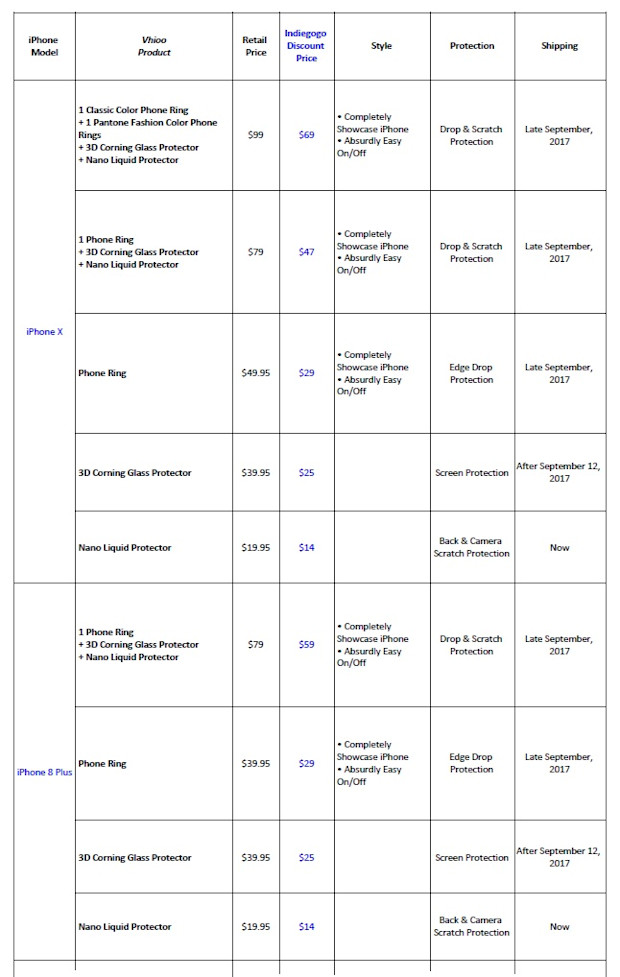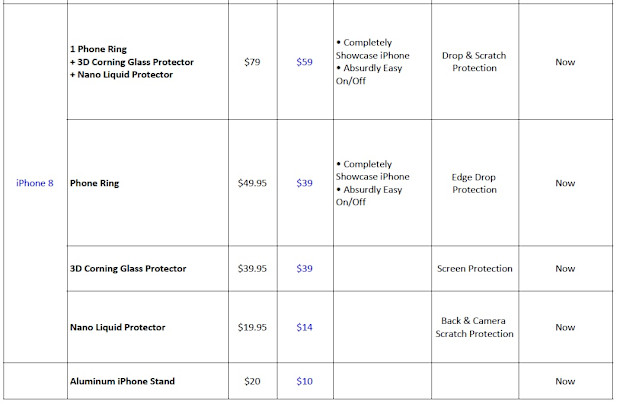 This Crowdfunding Campaign
Why are you crowdfunding?
High-quality mass production from design
How can you achieve Phone Ring's premium quality?
How do guarantee top quality?
We use Apple certified factory and the same precision cutting process for iPhones  to manufacture the phone ring.
What kind of factory do you use?
We use Apple certified factory in China to make the phone ring.
We use the largest smartphone screen protector factory in China to make the 3D Corning glass protector.
The award-winning Nano-liquid glass protector is made in Germany.
What does the Phone Ring consist of?
Phone Ring
3D Corning Glass Protector
Nano Liquid Glass Protector
How to choose the best Phone Ring option for me?
Which iPhone models does Phone Ring work with?
Phone Ring is available for iPhone 7/7S, and 8
What colors are available?
We offer  Black,Silver, Red, Pantone Lapis Blue , Pantone Pink Yarrow, Pantone Flame, and Pantone Greenery; 2017 Pantone Color Of The Year
Why do you offer Pantone fashion colors?
Just as the iPhone is not just a phone, the Phone Ring is not just a phone case. It is a fashion accessory that allow users show off the iphone's exquisite design.
Why do you only offer black and white 3D Vihoo Corning glass protector? Which one should I choose?
No matter the color, the face of all iPhones are white
Which option is best for me?
For overall edge drop protection: Phone Ring.
For drop protection and  full screen protection: Phone Ring + 3D cornering Glass
For full protection:  Phone Ring + 3D Cornering Glass+ Nano Liquid Glass
How does Phone Ring protect my iPhone?
The 2 piece hinged design of the Phone Ring itself along with the integrated protection systems within the ring helps dissipate energy during point of impact, keeping the iPhone safe.
Does the case add a lot of bulk to my iPhone?
Phone Ring does not add any bulk to your iphone. Phone Ring maintains the slim aluminum bezel appearance and feel of a bare iPhone.
Can I access the charging port, etc?
Yes. Phone Ring was designed with this in mind so users will be able to easily plug in their chargers
What are these magnets? Will they affect or damage my phone or credit cards?
The magnets in the ring allows easy on/ easy off
The magnets have been extensively tested and will not damage phones and credit cards near them; they will also not affect the iPhone, cellular data, wi-fi, etc.
When does shipping begin?
iPhone 8: late September
Shipping rates vary depending on your country
When can I expect it to reach my doorsteps?
All orders are expected to be delivered to your doorsteps for October 2017.
Where does it ship to?
How much is shipping?
Shipping rates vary depending on your country. Please see reward details for all other locations. Local taxes not included.
What are the risks and challenges of getting the device today?
We are aware there will be many  risks and challenges along the way. We are using Indiegogo as a way to validate our product. We want your help to keep us and our team accountable at every step of the process. If any obstacles get in our way which may delay the expected delivery date we will inform you all. We truly appreciate your support!
Distribution Partnership
I am interested in a distribution partnership.
Please contact wecare@vihoo.us and include the region(s) or platform(s) you distribute to in the email.
Customer Service
Is there a warranty?
Yes, all of our products come with a One Year Lifetime Warranty. This warranty covers manufacturing defects in the phone ring, 3D Vihoo Corning glass, and nano liquid protector. It does not cover gradual wear and tear throughout it's lifetime that is to be expected from normal use. We do not 100% guarantee the protection of your iPhone, no case, glass protector, or nano liquid protector is unbreakable!
How do I order an extra phone ring, glass protector, or nano liquid protector?
Check out perks or just pre-order again for another case. Contact us If you need any assistance with this.
What is your refund policy during the Indiegogo campaign?
See these steps on How to Request a Refund. During the Indiegogo campaign, you can process the refund at any time by contacting support@indiegogo.com or searching their help center. Refunds are processed on a case-by-case basis. At some point, we have to lock refunds in order to go into production and shipment. We will not be able to refund orders once they have been shipped.
What is your return and exchange policy?
After receiving your product and not satisfied, you may exchange it for a new one within 30 days, less shipping and handling fees.
Indiegogo processes refunds during the campaign. If you would like a refund, we're sorry to see you go and would appreciate hearing about any problems with our campaign that prompted your cancellation (wecare@vihoo.us). Please see here for the refund.
How do I choose more than one rewards?
To get more than one perk, please make a new contribution for each perk.
If you have special request, please send email to wecare@vihoo.us.
How can I check the status of my pre-order?
After pre-ordering on Indiegogo, you are going to have an account created by default.
You can verify your pre-order information by logging back into Indiegogo with the email you used for the pre-order.  
If I have other questions, who should I contact?
Press: media@vihoo.us
Support: wecare@vihoo.us